About PREempt Disinfectants
PREempt™ Disinfectants provide beauty professionals with a way to quickly and effectively manage infection prevention in spas and salons. For too long, the way to combat workplace germs was to use harsh chemicals that came with negative side-effects, special handling requirements and a toll on the planet. With PREempt you get effective protection against germs that does not come with risks to your health and wellness. PREempt™ Disinfectants are powered by Accelerated Hydrogen Peroxide® (AHP®) — tough on germs yet gentle on users and the planet. A 3-minute contact time against viruses, bacteria, and fungi makes them fast disinfectants available for the beauty and wellness industry today while offering the safest product for users, surfaces, and the environment.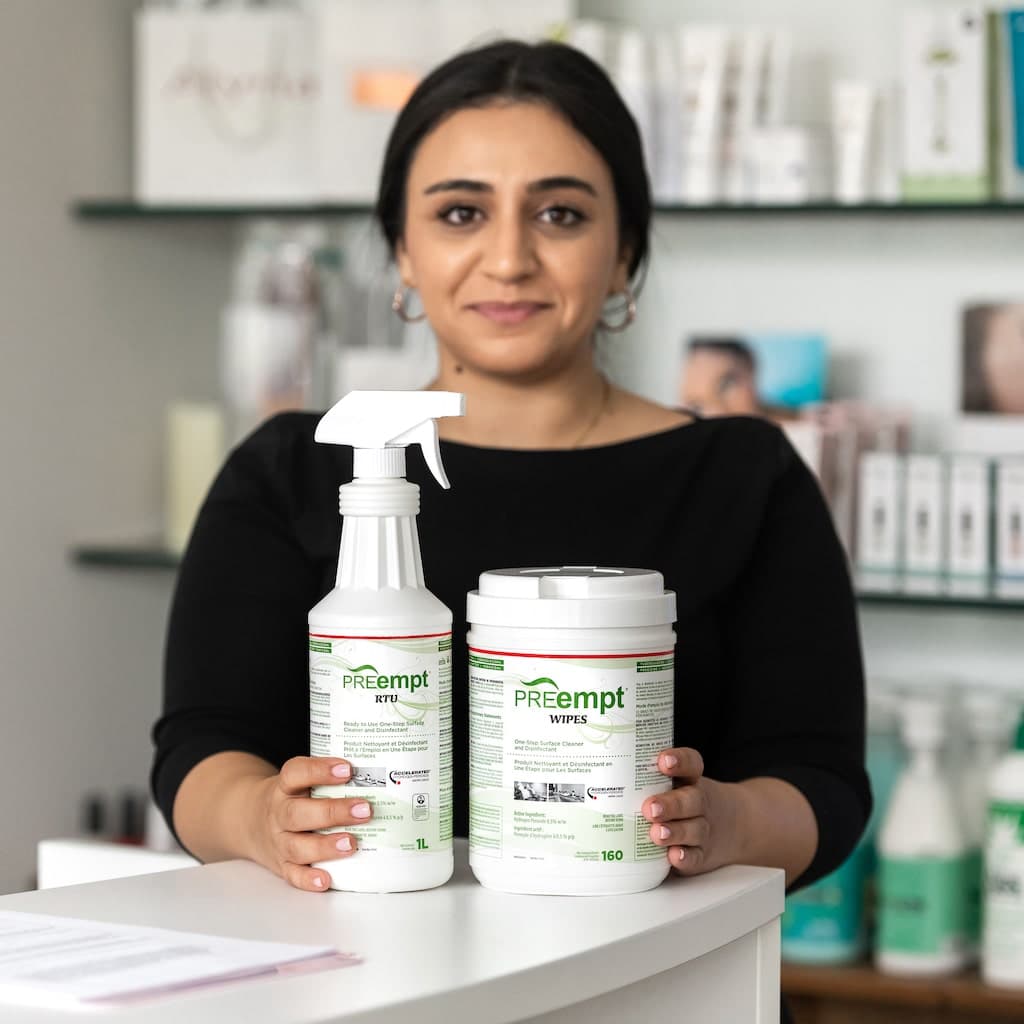 About Accelerated Hydrogen Peroxide
Accelerated Hydrogen Peroxide® was engineered by Virox Technologies Inc. as a game-changing disinfectant technology platform that has been relied on for more than two decades. Using low levels of hydrogen peroxide, together with a synergistic blend of commonly used, safe ingredients, Accelerated Hydrogen Peroxide has exceptional potency as a germicide and performance as a cleaner without sacrificing safety or sustainability. Virox's AHP formulas are made only using ingredients that are considered environmentally preferable and sustainable by the EPA, and the FDA's GRAS (Generally Regarded as Safe) Act, and the active ingredient is biodegradable, breaking down into water and oxygen. Offering the ideal balance of safety and efficacy, products powered by Accelerated Hydrogen Peroxide disinfect against a broad spectrum of pathogens and yet are gentle on users, surfaces, and the environment.
About Virox Technologies Inc
Virox Technologies Inc is a disruptive chemical engineering and disinfectant innovator who set a new standard in disinfection in 1998 with the patented technology, Accelerated Hydrogen Peroxide®. Since then, we have continued to innovate and deliver the world's safest, most effective, and eco-conscious disinfectants and elevate the understanding of proper disinfection and infection prevention. Our trusted technologies and products are relied on in more than 70 countries across human and animal health industries, eliminating dangerous pathogens and providing a safer and greener alternative for people, animals, and the planet.